Hi readers, we hope that you are enjoying a good read. As summertime is about to begin, and with many of you planning holidays, we understand you'll be thinking of a great book to take with you. Be sure to check out our A-Z list of authors and books we've reviewed for some ideas. We have also made a small list of our current reads (below) to keep you informed of what's to come in the weeks ahead – again with a complete mix of contemporary romance, suspense and psychological thrillers, fantasy paranormal  and erotic romance.
Not to forget some fantastic releases coming soon where we will be part of blog tours, giveaways and cover reveals! Keep checking in for those. You can also find us on Facebook (as A Readers Review) and Twitter (@areadersreviewb).
Our current reads:
Double Alchemy – Climax ( Book 2/2) by Susan Mac Nicol – fantasy, paranormal, romance(Tina to review)
Powerful modern warlock Quinn Fairmont found ecstasy with the silver-eyed and not-quite-human Cade Mairston, but to know true happiness the pair must best both the shadow of a long-ago lover and an ancient enemy who seeks to destroy love, light and all they hold dear.
A BLINDING LIGHT
It begins with a Book of Shadows discovered by a London coven. The grimoire is as dangerous as it is rare, which is why it evokes modern-day warlock Quinn Fairmont's desire. He collects objects of great power and beauty—like his lover, Cade Mairston.
Against all odds he and Cade found each other, but their perils have just begun. First is the ex-lover who once held Quinn in thrall. And, someone has been killing warlocks. Could it be one of his own kind? There are those too who would challenge Quinn's power in their quest to overthrow him as Grand Master. Or is the danger something darker, something invoked inadvertently, rising from the shadows, building from the very inside of a man until it brings an end with a quick flash of light? Of the truth, the surface has only been scratched. Now Quinn and Cade must go deeper and find both answers and an end. They must learn what lurks in the hearts of men…and whether it seeks to love or destroy.
Book one, Double Alchemy by Susan Mac Nicol, review here.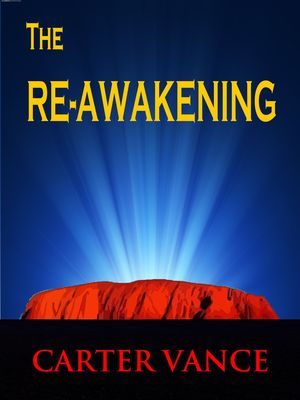 The Re-Awakening (Second Coming #2) by Carter Vance – thriller, suspense (Caroline to review)
The saga continues. He has returned, but not yet awakened to fulfill His destiny.
With The Re-Awakening, the second book of the Second Coming Series, author Carter Vance continues the thrilling story of the modern day return of Christ.
Like the first book, it is full of action and suspense that takes place in a chaotic world reeling towards the prophesied Apocalypse.
The first book, The Return, re-counted the circumstances of His birth. The Re-Awakening chronicles the events of His growth and the re-acquiring of His Christ Consciousness.
The first son in the bloodline of Jesus Christ, Lazarus J. Christos, must immerse Himself in the modern day world and prepare to fulfill His mission that has been prophesied for two thousand years.
With the aide of the order of the Knights Templars, long existing in the shadows, and the even less known organization of The Founders, young Lazarus, on a path of personal discovery, encounters His doubts and faces His fears of His ability to fulfill His mission.
Meanwhile, His enemies mount their plan for His eradication and their goal of world domination. They believe there is a way for them to prevail beyond the prophecies. These Dark Forces embark upon a worldwide hunt for legendary artifacts of power that might tip the balance of power to their advantage for the forthcoming ultimate battle of good versus evil for the soul of humanity.
Book one, The Return by Carter Vance, review here.
Pushin' Buttons (Boot Knockers #1) by Em Petrova – adult fiction, erotica, romance (Tina to review)
It's all in her head. Until she falls into the hands – and hearts – of two cowboys.
Sexual dysfunction. The words make Sybill cringe, but after one too many failed relationships, she has to face reality. Her O-button is broken, big time. Sick of sitting on the sexual sidelines, she books a week at Boot Knockers Ranch. If a passel of rugged cowboys vying to bring her bliss can't get her off, nothing will.
Hugh had planned to sit out this week's rotation of sexual therapy, but when he spots sultry Sybill, he pulls rank. His bone-deep urge to possess her isn't enough to coax elusive orgasms out of her body, though. And his resolve to give the lady whatever she needs wavers when she shyly makes a mind-blowing request.
Riggs stepped aside when Hugh muscled in to claim Sybill, but he jumps at the chance to fulfill her ultimate fantasy – a threesome. But once they come together, all barriers are stripped away, exposing his love for the one man – and woman – he'd break every last rule to make his own.
Warning: This ain't your daddy's ranch. Contains cowboys administering sexual therapy to frustrated ladies – and each other. Fresh batteries recommended. You're gonna need 'em!
Heart of Eternity by N. Jay – contemporary romance (Caroline to review)
When you are invited to dance with the muse of love, when you are driven to the edge by the pain of the past, when you hold the remedy for what ails you in your arms you will find yourself in the heart of eternity.
Set in the Blue Mountain's town of Blackheath in New South Wales, Australia, the novel Heart of Eternity introduces two very different characters, Jay and Naida, who encounter each other at a challenging time in each of their lives. Their individual expressions of the feelings they provoke in each other give rise to a turmoil that could ultimately claim their lives. When two people understand so deeply the pain each other has faced will it force them into the abyss of darkness or will their combined need for healing allow love to enter both their hearts?
30 Days to Syn by Charlotte Boyett-Compo – erotic (Tina to review)
The ad reads: Young woman (American only) willing to engage in domination roleplay. No BDSM. Salary: $1,000,000 upon completion of contract. Length of employment: 30 consecutive nights.
Drowning in debt, Melina Wynth is going under for the third time. With a dead-end job and a disabled brother dependent on her, the ad in the paper could be the lifeline to keep her from sinking. Reeling in her courage, she casts her line.
Synjyn McGregor is a shark—a very wealthy shark from Down Under—and his bite could prove to be her undoing. But Lina is determined she isn't going to allow him to get away. The length of employment might read thirty nights, but she suspects he is fishing for something more.
Synjyn needs a woman who will love him—mentally and physically—as never before. A woman whose touch will not only put the billionaire in his place but keep him there…begging for more. He will quickly realize Lina is made for Syn.
The Medea Complex by Rachel Florence Roberts – psychological, thriller (Caroline to review)
****BASED ON A TRUE STORY***
1885. Anne Stanbury – Committed to a lunatic asylum, having been deemed insane and therefore unfit to stand trial for the crime of which she is indicted. But is all as it seems?
Edgar Stanbury – the grieving husband and father who is torn between helping his confined wife recover her sanity, and seeking revenge on the woman who ruined his life.
Dr George Savage – the well respected psychiatrist, and chief medical officer of Bethlem Royal Hospital. Ultimately, he holds Anne's future wholly in his hands.
The Medea Complex tells the story of a misunderstood woman suffering from insanity in an era when mental illnesses' were all too often misdiagnosed and mistreated. A deep and riveting psychological thriller set within an historical context, packed full of twists and turns, The Medea Complex explores the nature of the human psyche: what possesses us, drives us, and how love, passion, and hope for the future can drive us to insanity.
We hope that you enjoy reading all about our recommendations. And remember, we are only a click away if you'd like to contact us!
Caroline and Tina 🙂