Hi readers, hope you are all doing well. We are at the peak of our summertime here in the UK and have been enjoying some fantastic sunshine and warm temperatures this year. It has been a lovely opportunity to take a short break and enjoy a book or two. Or even spending hours in the garden, enjoying a read with a cool, refreshing drink, a nice calm breeze to relax in, whilst hearing the birds hiding within the swishing trees and singing in the background!
And so, as the holiday season is in full swing we thought it best to provide you guys with our latest review round-up of the last few weeks. If you still haven't decided on the all important book to take with you on your hols, or need a new one fast, or even are open to a mind change – here's a few that might pique your interest as they did ours!! (Please click on the links for our main feature with review.)
Happy summer, guys. Enjoy whatever you are up to, as well as a cheeky read in-between!!
Caroline and Tina 🙂 xx
Restoring Lady Anna by Em Taylor, Historical Regency Romance (reviewed by Tina)
Blurb: When Lord James Eversley is accused of a murder he did not commit, he dresses up as his new brother-in-law's footman and hitches a ride in their carriage out of town. When it seems they are no longer being followed he begins to relax until a minor accident causes them to stop at a shabby looking inn. As his "master" and his sister sip tea in the scruffy parlour, James comes face to face with Lady Anna, the woman who left him in the dead of night five years before and a familiar looking child.
Lady Anna has accepted her life as Mrs Johnstone, mother of four-year-old Viola, "wife" of Peter, the mentally ill former footman and land lady of a shabby inn on the Great North Road. Her plans for a love match with the handsome Lord Eversley were cruelly snatched away from her five years before. Her ruination means there is no opportunity to return to her family or the ton. When James turns up, dressed as a footman and demanding answers, Anna must decide whether to tell the truth.
James never stopped loving Anna and now he must learn what happened that fateful night that Anna left him heartbroken. With the truth out in the open, he must convince the love of his life to take a chance on him. He wants to marry her and restore her reputation among the aristocracy. But in Regency England reputations are easily lost and difficult to regain. Can Anna trust James enough to do what is right for Peter, despite his actions, her child and most importantly himself? Can James convince Anna to seek the help that Peter needs and return to the ton?
Content warning: Contains scenes of an adult nature.
The Hunter's Realm by Brianna Hughes, Fantasy/Romance (reviewed by Tina)
Kelly Jackson has spent four years running and hiding. Her prince turned out to be an abusive bastard who tried to take her son. Moving into a nice quiet neighborhood the last thing she wants is to be drawn to her McHottie neighbor. No matter that her children think he belongs to the family.

Elliot Hensworth, one of the Realm's mightiest warriors, was sent to the other side to guard the weakening wall between the Realms. The last thing he needs is a petite sexy neighbor with her inquisitive children to find out that he isn't what he seems.

The Hunter's Realm is a story of strength, love and courage, face your worst fears and survive, to put your faith and trust in another person and the joy that comes when you do.
Vampire Flappers (Samantha Carter #1.5) novella by Tim O'Rourke, Sci-Fi/Paranormal Romance/Mystery (reviewed by Caroline)
Blurb: What happens in Paris . . .
Since returning home, Sammy's been struggling desperately to remember her friends and her adventures back in the Wild West. Were they real? Could the vampires, the werewolves, even Harry be just figments of her imagination? Desperate for answers, Sammy has returned to the Underground, where it all began, and finds herself snatched back in time once again.
Plunged into the middle of a desperate battle, Sammy's soon fighting for her life, for her memories . . . and for her man!
Short, sharp and sexy, this is the perfect remedy for O'Rourke addicts needing a quick hit, and for new readers looking for something new and exciting!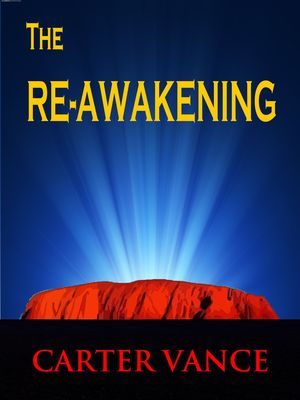 The Re-Awakening (Second Coming #2) by Carter Vance, Mystery/Thriller Suspense (reviewed by Caroline)
The saga continues. He has returned, but not yet awakened to fulfill His destiny.
With The Re-Awakening, the second book of the Second Coming Series, author Carter Vance continues the thrilling story of the modern day return of Christ.
Like the first book, it is full of action and suspense that takes place in a chaotic world reeling towards the prophesied Apocalypse.
The first book, The Return, re-counted the circumstances of His birth. The Re-Awakening chronicles the events of His growth and the re-acquiring of His Christ Consciousness.
The first son in the bloodline of Jesus Christ, Lazarus J. Christos, must immerse Himself in the modern day world and prepare to fulfill His mission that has been prophesied for two thousand years.
With the aide of the order of the Knights Templars, long existing in the shadows, and the even less known organization of The Founders, young Lazarus, on a path of personal discovery, encounters His doubts and faces His fears of His ability to fulfill His mission.
Meanwhile, His enemies mount their plan for His eradication and their goal of world domination. They believe there is a way for them to prevail beyond the prophecies. These Dark Forces embark upon a worldwide hunt for legendary artifacts of power that might tip the balance of power to their advantage for the forthcoming ultimate battle of good versus evil for the soul of humanity.
Crimson Sins by Madeline Pryce, Erotic/Paranormal Romance (reviewed by Tina Williams)
Created in Darkness and born of Death, three brothers carry a deadly secret.
One lethal enough to have the dead outnumber the living. Necromancer. Biohazard. Zombie. The abomination inside Bastian Hale demanded constant payment—fresh blood. Without it, he'd rot from the inside out and become little more than a mindless monster. Some called him a living vampire, others considered him contaminated. One woman would call him hers.
Morgan Cross never understood the innate necromancer power running through her veins or why ghosts and zombies sought to ruin her life. When someone's deadly obsession throws her into Bastian's arms, their pasts come back to haunt them and she must avoid the one thing she was born to do—claim him as hers.
WARNINGS: violence, gore, mention of rape, torture, images of past abuse, spanking.
Red Hot Obsessions by 10 Best Selling Authors, Contemporary Romance (reviewed by Tina)
Milk – Blood by Mark Matthews, Psychological Horror (reviewed by Caroline)
Blurb: Lilly is ten years old, born with a heart defect, and already addicted to heroin. Her mother is gone from her life, and there are rumors that she was killed by her father and buried near the abandoned house across the street. The house intrigues her, she can't stay away, and the monstrous homeless man who lives there has been trying to get Lilly to come inside.
For her mother is there, buried in the back, and this homeless man is Lilly's true father, and both want their daughter back.
Heart of Eternity by N. Jay, Fantasy Paranormal/Romance (reviewed by Caroline)
Blurb: When you are invited to dance with the muse of love, when you are driven to the edge by the pain of the past, when you hold the remedy for what ails you in your arms you will find yourself in the heart of eternity.
Set in the Blue Mountain's town of Blackheath in New South Wales, Australia, the novel Heart of Eternity introduces two very different characters, Jay and Naida, who encounter each other at a challenging time in each of their lives. Their individual expressions of the feelings they provoke in each other give rise to a turmoil that could ultimately claim their lives. When two people understand so deeply the pain each other has faced will it force them into the abyss of darkness or will their combined need for healing allow love to enter both their hearts?
Irrevocable by Skye Callahan, Dark Erotic Romance (reviewed by Tina)
Blurb: Sometimes when you can't go back, the only way out is to descend into the darkness.
my Captor
When I woke in that place, I just wanted to survive. But survival came at a cost, for which they demanded my will and body.
my Master
With pain came acceptance. Fully-dependent on the man who claimed me, I learned to appreciate what I had-life and relative safety.
my Protector
I watched him spill blood and tend my injuries. With betrayal came a revelation.
The only way out was to bring them all down or die trying.

Warning: This isn't your rainbows and love sonnets kind of romance. This story explores topics of abduction and slavery, and contains explicit scenes of graphic violence and (non-con/dub-con) sex.
Weeping Angels by Cristy Rey, Women's Fiction/Contemporary Romance (reviewed by Tina)
Blurb: Four years ago, Frankie Rios walked away from her best friend and big sister, Iris. To Frankie, Iris died the day that she last rejected Frankie's attempts at getting Iris alcohol and drug treatment. Rather than accept grief for her beloved sister's loss, Frankie turned to her music. A renowned cellist, Frankie has managed to ignore the pain and suffering of losing the person she loved most in this world. With Iris out of her mind and out of her life, Frankie was able to move on…or so she thought. Until Iris really died.
Topher went to war in 2001 only to return two years later damaged and broken. Unable to reconcile the war vet with the boy he used to be, Topher gave up on life. When Iris Rios, his long-lost childhood best friend, dies from liver failure at thirty-two years-old, Topher is forced to confront his past. He must decide whether he deserves to heal. He must decide whether he will take that first step and then take another until he can recover what he lost: himself.
Weeping Angels is a story of grief carried and grief ignored. It's about learning to love and moving on. Mourning someone once is hard enough, but mourning someone twice is unimaginably harder.
Touched by the Sandman by Beverly Ovalle, Erotic Fantasy Romance (reviewed by Tina)
~ A lonely woman's torrid sexual dreams and fantasy partner await her as reality in another dimension.~
The sandman visits those that need him, assisting them to sleep. Until one night he meets a woman that he cannot help but return to time after time.
She is lonely. He comes to her as she drifts off to sleep, the man of her dreams. Awake or asleep, which is her reality?
He knows she is the one meant for him. He will find a way to make both of their dreams come true.
The Mechanic by Tim O'Rourke, Sci-Fi Romance Mystery (reviewed by Caroline)
Blurb: The Mechanics were built to help people. They looked and behaved just like humans. But when the Mechanics malfunctioned and started to kill those who had given them life, they were hunted down and destroyed, until only one remained.
When twenty-two-year-old, Hope Last, has a chance encounter with a mysterious man named Aidan Croix, an immediate and intense attraction forms between them.
…
Hope soon fears that Aidan is keeping a terrible secret and begins to suspect that he might not be human after all but the last of the Mechanic's the world has been hunting for. But Hope knows that it isn't just her heart but her very life, Aidan holds in his hands.