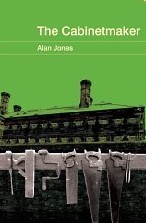 Title: The Cabinetmaker
Author: Alan Jones
Genre: Crime thriller, crime drama
Length: 292 pages
Synopsis: The Cabinetmaker, Alan Jones' first novel, tells of one man's fight for justice when the law fails him. Set in Glasgow from the late nineteen-seventies through to the current day, a cabinetmaker's only son is brutally murdered by a gang of thugs, who walk free after a bungled prosecution.
It's young Glasgow detective John McDaid's first murder case. He forms an unlikely friendship with the cabinetmaker, united by a determination to see the killers punished, their passion for amateur football, and by John's introduction to a lifelong obsession with fine furniture.
This is the story of their friendship, the cabinetmaker's quest for justice, and the detective's search for the truth.
This unusual crime thriller contains some Glasgow slang and a moderate amount of strong language.
REVIEW
The Cabinetmaker is a very well-written narrative focusing on the relationship of a murdered lad's father and the growing friendship the cabinetmaker, Francis Hare, has with Detective John McDaid, who is working on his son's case. It is written almost biographically from McDaid's point of view, starting from the death of Patrick Hare in the late seventies until the present day.
Patrick's death was violent and Alan Jones has written in a very clear and believable manner, allowing the reader to picture Patrick's final moments. It is a very dark and pivotal moment of the story that will change Francis and his wife forever. Patrick was their only child, and the impact that his death had on both characters is devastating. To make matters worse, the culprits walk free and although seemingly calm through the best part of the story, deep down Francis longs for justice for those that caused his son's death.
An interesting part of the story was the reasons behind the attackers walking free from court. Many of the CID officers were 'dirty'. Their methods of interrogation and gaining evidence was unorthodox, to say the least. There was little back-up for the evidence that was present and many of the suspects were intimidated by the officers, making for poor statements. Again, I have to say the writing is effective. Without being too heavy with the description, Alan Jones writes in such a manner that is so easy and clear to follow, despite the subject matter having the potential to upset the reader. It is written with care, and allows the reader to picture their own images on just how brutal these officers could be. There is very little Scottish dialect, but when it was present I found it to be very easy to follow and added a sense of realism of the place and times that the story is set.
The main focus of the story is the relationship that grows between Francis Hare and Detective John McDaid.  Francis runs his own business as a cabinetmaker, which John finds fascinating. Not only this, but they are both playing for an amateur football side, and so share similar interests besides the case.  John longs for the justice that Francis wants for his son, and throughout the following years still follows the case up. You can probably guess that John is one of the good guys and disagreed with his former colleagues' tactics, and yet had no say in the matter at the time, being it his first job with the department. And, he couldn't afford to lose his chance working at that level by getting on the wrong side of them.
Each time John discovered something new about the people responsible he shared his knowledge with Francis, usually at the workshop. During these times John began learning about the furniture, the wood, how to make certain parts, and began to assist Francis in his spare time and become almost an apprentice. These moments of the story are some of my favourite. These two men get to know each other, almost like a father/son relationship. It is quite heart-warming and emotional at times.
I could also relate to the well-descriptive scenes where Francis is making his beautifully finished cabinets. On a personal level, it brought back a sense of nostalgia for me as I used to sit for hours watching my own father, who is a trained carpenter and joiner, DIY. Here are two examples that I thought were written clearly, beautifully and added a real profound feeling between John McDaid as he watched and worked with Francis:
"He started to fiddle with the carcase, and I'm sure he very quickly forgot that I was there. I watched him work, as he planed an edge, and even my untrained eye could see that the plane was an extension of his arm, the shavings coming from its mouth so thin as to be almost translucent. I could have watched him for hours…"
"I called round with Francis the following day, and managed to get a bit more of my bookcase done – Francis was at a point in his furniture order where I couldn't really help. His skills in finishing his furniture almost seemed better than those he used in making it. He would spend hours applying the various shades of shellac, rubbing the surfaces with a constant, controlled series of sweeps. I lost count of the number of layers he laid down, producing that depth of surface where the grain of wood seemed to float in a clear, utterly smooth layer of varnish."
These examples also provide an insight into Francis' outlook and personality. He likes to see things through to the end, each element being precise, with nothing left untamed, or cared for. These finer details are quite poignant for the story as it moves on.
I found the pace of the story to be perfect. During times of action it quickens up, but throughout some it is a nice slow-but-steady pace that meets the needs for the emotional element. The pace also provides the reader with the true feel of John McDaid ageing, following John throughout his various police roles, as well as following the lives of the suspects responsible for Patrick's murder and, most of all, building up the long-lasting friendship he has with Francis.
The ending is wrapped up just right, as everything falls into place. The Cabinetmaker, as a story, grows just like the relationship between Francis and John. It keeps getting better and better, deeper and deeper. It draws you in with a nasty, violent attack on a young lad, but then transforms into a beautiful tale of two best friends, a father/son bond. I LOVED this book and would strongly recommend it to readers who enjoy a good drama, a character-based story, as well as crime fans. It is a superb all-rounder!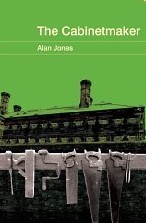 A copy of The Cabinetmaker was provided by the author in return for an honest and fair review.
The Cabinetmaker by Alan Jones is available at Amazon UK and Amazon US.
Reviewed by Caroline Barker