After reviewing debut author, Alan Jones' The Cabinetmaker last week, I am excited to be introducing our readers with his second novel, Blue Wicked. Not a sequel to his first novel, albeit still a gritty crime thriller.
Title: Blue Wicked
Author: Alan Jones
Release Date: October 2014
Genre: Gritty crime thriller
Length: 167 pages
Blurb: The tortured corpses of young alcoholics and drug addicts are turning up in Glasgow and only unlikely investigator Eddie Henderson seems to know why. When he tries to tell the police, his information is ridiculed and he's told to stop wasting their time.
One officer, junior detective Catherine Douglas, believes him, and together they set out to discover why the dregs of Glasgow's underbelly are being found, dead and mutilated….
PROLOGUE
Eddie looked around at the crime scene. As usual, it looked nothing like those on the cop shows he'd seen on TV. No photographer, no blue and white police tape or flashing blue lights; just him and his little black case. A small crowd of onlookers surrounded him and to be fair, they gave him a little room to work, but that may have been because of the smell.
This was the third of three similar cases that Eddie had worked in the space of two years, and he briefly wondered if they could be connected. Flies buzzed around his face and he flapped his hand at them ineffectively. The victim had been dead for a couple of days, and there was a sticky pool of blood and faeces on the ground below the body. A length of wood extended from the anus, and another from the mouth; from the position of the body, Eddie surmised that it was the same piece of wood, because it was supporting the corpse in mid-air across two rusty steel barrels, as if it were a spit roast about to be barbecued. Eddie hoped that death had come before the skewering.
He was concentrating hard, so it gave him a bit of a start when a voice interrupted his thoughts.
"Hey mister, who the fuck wid dae that tae a fucken cat?"
CHAPTER 1 Eddie
Ever since he could remember, Eddie had wanted to be a vet. As one of the few vets in Scotland who specialised in animal abuse and poisoning, he was often called out by the SSPCA when an animal was suspected of having been poisoned or tortured, which is why he found himself in the middle of a patch of waste ground on the outskirts of Glasgow.
He had started out as a fairly ordinary vet, qualifying with a veterinary degree from Glasgow University including distinctions in medicine, pathology, physiology and biochemistry. This was all the more remarkable when you knew his background; one of four children from a one-parent family brought up on one of Glasgow's toughest housing estates, Castlemilk. University had been a struggle at times, both financially and emotionally, although he had coped better with the academic side of the veterinary degree, being, according to his friend Brian, "a clever cunt".
Despite his upbringing he had almost fitted in, but he couldn't quite manage the don't-give-a-fuck attitude that some of the better-off students had and, although he joined in with many of the social activities normally associated with students, most of his fellow classmates considered him to be somewhat stand-offish, perhaps with a bit of a chip on his shoulder. Eddie himself would have told anybody who asked that he enjoyed his time at university, but that he'd had to grow up a lot quicker than his fellow students, helping to bring up his three younger siblings and working from an early age to earn enough to help with the housekeeping and have a little money for himself.
He took some photographs of the unlucky animal in situ, measured the length of the wood impaling it, and then, using the small hacksaw from his case, he cut the wood close to where it emerged from both ends of the cat, which allowed him to place the animal into the thick polythene bag that he'd brought for that purpose. As he did this, he thought of his first few years in practice, when he had soon become bored with much of the daily routine work that he needed to get through. He wasn't really a people person, so it was often an effort to be "nice" to the clients, although he generally got on a little better with his patients. None of the pet-owners in any of the practices where he'd worked particularly disliked him, but he'd never developed a loyal following of clients like some of the other vets he'd worked with.
He'd also struggled at times to fit in with the other practice staff until, about five years earlier, he'd moved to a small-animal practice in Paisley, just to the South West of Glasgow. The senior partner and the other vets in the practice realised before long that in Eddie, they had a very useful addition to the team. His strong interest in medicine and pathology made him indispensable in handling the kind of lengthy and complex cases that they struggled with, and his solid knowledge of lab work combined with his scientific and ordered approach meant that his work in the background let the other vets get on with keeping the customers happy and doing most of the day-to-day stuff that he found tedious. As a result he was offered a partnership in the practice, which he had accepted two years after joining them.
Encouraged by his position as the practice "expert" in biochemistry and post-mortem work, and his interest in the occasional poisoning case that the practice dealt with, he decided to take the unusual step of studying for a certificate in veterinary forensic pathology. It meant that he had to attend seminars and lectures periodically at Cambridge University, which was a bit of a bitch, but the practice paid for it, and he soon found himself involved in intriguing, though sometimes horrific, animal welfare cases.
Strangely, Eddie had fitted in at Cambridge. The other post-grads he studied with at the veterinary faculty were similar to him in many respects. Their backgrounds varied enormously, but they all had the same drive to learn, and a benign disdain for anyone who didn't strive to further their knowledge. He even had a brief fling with one of his fellow students, Anna, but bizarrely, their post-coital chat was usually about forensic pathology rather than any plans they might have to carry on the romance away from the university's rarefied environment.
The crowd had dispersed with the disappearance of the sorry corpse, and Eddie laid it gently in the large plastic box that he kept in his car for the purpose. Putting his case in the car as well, he took one last look around then pulled off the blue overalls that he usually wore for such jobs, more to keep himself clean than for any forensic reasons. He checked the cat for a microchip which, if present, would enable Eddie to identify its owner.
Eddie groaned when the reader pinged and the number appeared on the screen. It meant a particularly unpleasant phone call he'd have to make later, breaking the news to a distraught owner, getting their permission to do a post-mortem examination and send appropriate samples off to the lab. He headed back to the surgery, anxious to get on with it; it would mean a very late finish, as he also wanted to write up his interim findings and send his preliminary report to Mike George at the SSPCA before going home.
MORE INFO
To read a larger sample about how Eddie's investigation of a series of animal killings draws him into one of the biggest serial murder enquiries Scotland has ever seen, read four free chapters at www.bluewicked.co.uk, where there is also an online audio dictionary.
You can also check it out on Goodreads.
PURCHASE LINKS
---
Previously reviewed was Alan Jones' The Cabinetmaker. We awarded this an amazing 5* on Goodreads and Amazon!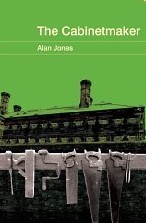 Synopsis: The Cabinetmaker, Alan Jones' first novel, tells of one man's fight for justice when the law fails him. Set in Glasgow from the late nineteen-seventies through to the current day, a cabinetmaker's only son is brutally murdered by a gang of thugs, who walk free after a bungled prosecution.
It's young Glasgow detective John McDaid's first murder case. He forms an unlikely friendship with the cabinetmaker, united by a determination to see the killers punished, their passion for amateur football, and by John's introduction to a lifelong obsession with fine furniture.
This is the story of their friendship, the cabinetmaker's quest for justice, and the detective's search for the truth.
This unusual crime thriller contains some Glasgow slang and a moderate amount of strong language.
To check out our 5* review of The Cabinetmaker please click here.
For more info on The Cabinetmaker, check it out on Goodreads.
The Cabinetmaker by Alan Jones is available at Amazon UK and Amazon US.