Playing the Field (Duty & Desire #4) by C.J. Pinard
FRESHLY RELEASED January 15th, 2015, contemporary military romance/chick-lit
Blurb: An overachiever in uniform…
Jace Lawless is an overachiever, a go-getter, and determined to accomplish everything he sets his mind to. After serving his country in the U.S. Marine Corps, and receiving his college degree, he's picked up by a popular minor league baseball team, all while continuing his service in the USMC reserves.
When Jace meets a beautiful, breathtaking single mother named Miranda Cates, it takes him by surprise. Her shady past and beautiful little girl are the conundrum that both confuses and fascinates Jace. He can't tear his thoughts away from Miranda, and eventually he believes he can win her over with his dimpled smirk and witty charms.
Once Miranda becomes his, the part of him she hated the most – the part he had kept secret from her for so long – rears its ugly head. Will Miranda lean on her friend Cara for support while staying by his side once he tells her that duty is calling… or will she decide she can't handle it and take her daughter and leave?
Playing the Field is the fourth and final installment of the Duty & Desire series. Contains adult situations and minor scenes of war.  
REVIEW
After reading Book 3, Boots Beneath My Bed (Miranda's Story), Playing the Field goes hand-in-hand as the final story of this sweet, contemporary, military romance series focuses on Jace's point of view, his background with the U.S. Marine Corps and minor league baseball team, as well as his strong feelings for Miranda. If you're looking for a refreshing, cheeky, fun and romantic read then this is a series for you!
From early on in the story the reader has a sense of just how much baseball and the Marines mean to Jace. As well as both being an enjoyment of his, he is also incredibly talented at both and his skills are noticed. They both play a huge role in his life, but it could all be about to change with Miranda about to enter it.
Not a fan of a military man, as she has been let down more than once, Miranda makes it clear to Jace that she would never date another! This leaves Jace wondering when he should let her know of his background. You can sense his genuine worry of losing her if she found out but knows that she has to know. How can he make her see his point and that he isn't a player?
We learn that despite Jace's macho appearance and strong masculinity, he is actually a rather sweet hottie. He is considerate towards Miranda, and yet has the self respect to follow his dream and remain with the Marines until his contract is up at least! But will he be able to convince Miranda to stay with him?
It isn't too long before Jace realises his feelings for his ex, Samantha, were nothing compared to how he loves Miranda. Not only does he absolute love her delectable, curvaceous body, he also admires her strong will. Yes, Miranda holds his heart both physically and emotionally. And, he also adores her young daughter, Ashlynn, and has a strong sense that he can't let these ladies out of his life.
Although his relationship is the core of the story, Jace is also tackling nightmares from when he was once deployed. The author writes with such care over these dark and serious events, and yet still manages to keep the read, as a whole, light. As the story continues some of these events are more frequent and add more power as the reader begins to see just how much the Marines mean to Jace, and also how he doesn't want it to affect a life he longs for with Miranda. This could be one of the biggest battles he has ever had!
Playing the Field is a delight to read and, as the whole series has been, very refreshing! Fans of Duty & Desire books 1 and 2 will also be pleased to hear that Cara and Riley also have an appearance in Playing the Field, as the author carries on a little of their storyline too and how their relationship affect Miranda and Jace (Cara being Miranda's best friend, and Riley a military man himself with a story to tell of his own). Yes, to thoroughly enjoy I would strongly recommend that the series be read as a whole, as these lives intertwine and each book is from a different perspective. They fit together superbly well and you truly get to see all angles. What a way to honour the military and their families, C.J.!
A copy of Playing the Field (Duty & Desire #4) was provided by the author in return for an honest and fair review.
Playing the Field is available at Amazon US and Amazon UK.
Reviewed by Caroline Barker
You can also find Books 1 & 2 available!
Patriotic Duty (Duty & Desire 1) series previously entitled 'When Riley Met Cara'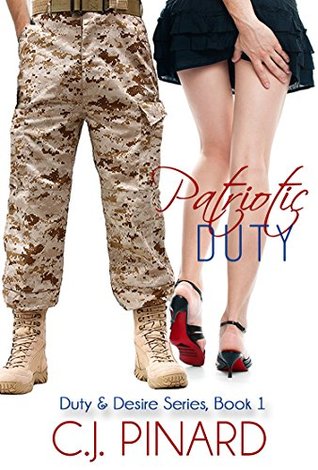 Blurb: Newly divorced party girl Cara Reid just wants to have fun. Much too young to even be a divorcee, she and her bestie, Miranda, set off to have fun and maybe a few casual hookups and live life. One night at a military bar, Cara meets Riley Forrester, a hot Army soldier who makes her melt with one look of his deep ocean blue eyes. But Riley is only staying the summer in California and then has to go back to Colorado when it's over. Cara tells herself he's just a summer fling and is determined to enjoy herself and let him go once the summer is over. But when Riley receives orders he wasn't expecting, she's forced to make a decision on whether she's going to be there for him when he gets back, or move on with her life. What she wasn't expecting was to fall so hard for the beautiful soldier boy, and now she's faced with accepting her feelings or letting him go.
For readers 18+. Contains adult content.
Amazon US link – currently FREE (please be aware prices are subject to change)
Amazon UK link – currently FREE (please be aware prices are subject to change)
Tour of Duty (Duty & Desire #2)
Blurb: Army Sergeant Riley Forrester knew all about love, loss, and pain. He knew the love of a woman just to lose it. He had spent the best summer of his life with a beautiful single mother named Cara Reid, and then desperately needed her love to get him through a long, cold deployment. When things went horribly wrong overseas, he decided it was best to let Cara go and let her move on with her life. Cara wouldn't be forgotten that easily, though. She had seeped her way into his heart and his dreams, and Riley knew he'd never love another like her. Contains adult content, for readers 18 and older. Also contains minor scenes of war.
Boots Beneath My Bed (Miranda's Story) (Duty & Desire #4)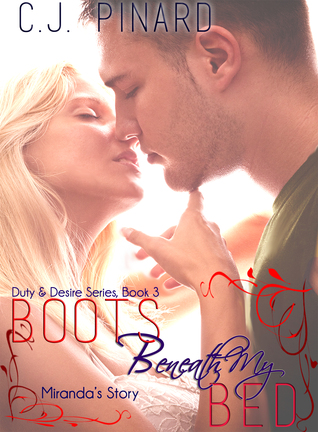 Blurb: Miranda Cates finally graduates from college and is excited to begin her dream career in law enforcement. After the final betrayal and heartbreak of her college boyfriend, Chris, she moves back home with a firm plan in place for her life.
However, the life she has carefully mapped out for herself takes a serious left turn. Miranda finds she not only has to be strong for herself, but for the daughter who hadn't been part of her plan.
Determined to still believe in true love, life throws Miranda one more wicked curveball. She meets Jace Lawless, a hot minor league baseball player, whose warm aqua eyes and big dimple have her unraveling her carefully laid plans. A man who may be just be too good to be true.
Boots Beneath My Bed (Miranda's Story) is book 3 in the Duty & Desire series, and while it is recommended to read the books in order, it's not necessary.
AUTHOR LINKS
If you would like to contact C.J. Pinard you can reach her on Facebook at http://www.facebook.com/CJPinardAuthor or you can e-mail her at cjpinardauthor@gmail.com.