Hi readers, we are well into January now but we do hope that you enjoyed the holiday season and that you have a Happy New Year. I am amazed that over the last month Tina and myself have managed to review fifteen books and hope that you enjoy reading all about them.
Romance is certainly a strong theme for the following books but we still cover the historical, contemporary, chick-lit, erotica, paranormal and sci-fi (and festive) genres, as well as having a paranormal thriller/horror and a crime drama in the mix too!
As always, you can click on the book title for the full review and more!
Caroline & Tina ❤
Tempting his Mistress by Samantha Holt, historical romance (reviewed by Tina)
Blurb: What could possibly induce at woman to follow in the footsteps of her mother and further sully her reputation by becoming a mistress?
Lilly Claremont is well used to being at the centre of gossip. Being the illegitimate child of a rich businessman never failed to titillate the gossips and while she cared little about the wagging tongues she never intended to reinforce their opinions of her by ruining herself completely.
But it seems Lord Hawksley is determined to make the fascinating Lilly his mistress…
Evan has no doubt her bold tongue and beautiful body could keep him entertained for some time. Captivated by her, he must find a way to burn through his desire for her. He cannot marry a woman of such social standing so why not make her his mistress?
After the murder of her father, Lilly is searching for answers and they lead her directly to Lord Hawksley. But will they also lead her to his bed…?
All I Want for Christmas by Amy Silver, contemporary holiday romance, chick-lit (reviewed by Caroline)
Blurb: It's Bea's first Christmas with her baby son, and this year she's determined to do everything right. But there is still so much to do: the Christmas menu needs refining; her café, The Honey Pot, needs decorating; and she's invited the whole neighbourhood to a party on Christmas Day. She really doesn't have time to get involved in two new people's lives, let alone fall in love…
When Olivia gets knocked over in the street, however, Bea can't help bringing her into The Honey Pot and getting to know her. Olivia's life is even more hectic than her own, and with her fiancé's entire family over from Ireland for Christmas, she shouldn't be lingering in the cosy warmth of Bea's café. Chloe, on the other hand, has nowhere else to go. Her affair with a married man has alienated her friends, and left her lonelier than ever.
But Christmas is a magical time, and in the fragrant atmosphere of The Honey Pot, anything can happen: new friends can be made, hearts can heal, and romance can finally blossom…
A True Alpha Christmas (novella of the True Alpha series) by Alisa Woods, new adult, paranormal romance (reviewed by Caroline)
STAND-ALONE NOVELLA – best enjoyed after reading the True Alpha Box Set (Vol 1-6)
Blurb: Shifters live in the shadows of Seattle, just under the skin of the alpha male, dot-com entrepreneurs who are building a new Silicon Valley in the Emerald City. Mia is your everyday college girl, trying to earn her business degree—and a shifter who's long hidden her identity from everyone, including her mother, who believes shifter is synonymous with criminal. Six months ago, sexy and powerful alpha-male Lucas rescued her in an alley and claimed her for his mate. Now Mia's heart belongs to Lucas, and everyone in the world of shifters understands the magic of their mating has bonded them for life. But in the human world, there's no wedding ring on her finger to show for it. With Christmas looming, Mia's mother wants to finally meet Mia's mysterious and high-powered live-in lover. With her human and shifter lives about to irrevocably collide, Mia fears there will be nothing but broken hearts in the end.
A True Alpha Christmas is 80 pages or 20,000 words. This novella can be read as a standalone, but readers will enjoy it more if they read the True Alpha serial (Vol 1-6) first.
Long Gone Girl (short story) by Amy Rose Bennett, erotic romance (reviewed by Tina)
Blurb: After returning home from the Korean War a widow, former MASH surgical nurse, Ginny Williams, heads to the Jersey Shore for a weekend of much needed R&R. But her plans to do nothing more than relax on the beach go seriously awry when the boy who broke her heart on Prom night nine years ago—the now hotter-than-hot 'fly-boy' Jett Kelly—shows up on her patch of sand. To make matters worse, Captain Kelly seems to be on a mission to win her trust, and maybe even her heart again. But the last thing Ginny wants is a man—especially one like Jett—in her life. She's a career nurse now, and that's that. If only Jett wasn't so damned charming and attractive…
US air force pilot, Captain Jefferson 'Jett' Kelly Junior is blown away to have stumbled across the beautiful yet shy and bookish girl he used to have a huge crush on in high school—especially now that Ginny is all grown up and sexy as hell. Problem is, she's also not backward in coming forward when letting him know she hasn't forgiven him for the Prom-kiss-gone-wrong incident. Even though Jett knows he'll have his work cut out for him to get a second chance with her, he's definitely going to give it his best shot…
Despite Ginny's determination to keep her head—she's certainly not the naïve girl she used to be—when Jett starts to unashamedly woo her, she soon realizes that maybe her heart didn't get the memo…
Falling Dragons (Moon Shadow series #3) by Angela Castle, erotic paranormal romance (reviewed by Tina)
Blurb: Drugged and running for her life, Dragon Princess, Ophelia, jumps off a rooftop to escape her captors.
Immortal Demon Hunter Simon, is shocked when he catches a falling, redheaded woman. His surprise is short-lived when he faces not only a vicious demon, but those hunting his newly acquired redhead.
In desperate need of protection, and knowing he is her mate, Opie spell-tethers the sexy Demon Hunter to her, not realizing he's a seventeen-hundred-year-old dragon slayer.
The sexual chemistry explodes between them as they fight each other, in and out of the bedroom. Together, they must battle an evil enemy set on unleashing a soul-sucking demon army into the world, threatening to destroy everything they hold close to their hearts.
Bethany's Heart (Unearthly World #3) by C. L. Scholey, sci-fi erotic romance (reviewed by Caroline)
Blurb: Amidst the snow and icy wasteland, Earth has become a watery grave to many. Zargonnii warriors Finn and Blu search for any remaining human females. Luck abounds and six females are found struggling to survive. The moment his blazing red eyes settle onto Bethany Finn feels in his heart she is the one he wants to end his loneliness. When Bethany encounters two massive aliens, eyes alight, long white hair wildly flying, she knows the pair are either death or salvation. Their encounter leads Bethany on the wildest adventure of her life. After the Zargonnii ship is annihilated by the enemy a shuttle leads Finn and Bethany straight into the path of peril more times than the couple care to count.
Help, I've Been Abducted by an Alien! (short story) by Juliet Cardin, sci-fi erotic romance (reviewed by Caroline)
Blurb: Jen joins an alien-abductee group in order to secretly write an article on the subject. Her plans take an unexpected turn when she encounters a UFO in her neighborhood park and gets abducted for real.
Lysander, her sexy captor, informs Jen he's not taking her home. Earth, he confides, is soon to be impacted by an asteroid and then invaded by a hostile lizard race. Jen is determined to find a way to escape Lysander–who is hell-bent on having her for himself–and return to Earth, before it is too late to prevent its annihilation. 
Drug (The Kassidy Bell trilogy #1) by Lynda O'Rourke, paranormal thriller, horror (reviewed by Caroline)
Blurb: Out of work and out of luck, 19 year-old Kassidy Bell finds herself in desperate need of money.
Coming across a mysterious advert in her local newspaper offering a reward, Kassidy believes she's found the answer to her prayers.
But Kassidy soon realises that if something is too good to be true then it usually isn't what it first appears to be. Finding herself in a desperate situation, Kassidy realises that she must run if she is to escape the new horrors she has discovered however great the reward might be.
Mr X by Clarissa Wilde, dark, erotic romance (reviewed by Tina)
18+/Adult Read
Blurb: He's come to kill me. I'm a user and abuser of my own body. In my darkest hour I sold my soul to the devil and now I must pay the price. With his gun to my head I have no choice but to listen and obey, but I refuse to go down easily. Nothing is stronger than the will to survive. My instincts kicked into full gear the second he stepped into my motel room.Except when I look at him I see my own heart staring back at me. A history tainted by blood.I don't know his name, but I know he wants me. To save myself I'll sacrifice my sanity. My body. My soul. Something tells me the x-shaped scar that marks his eye is the only escape I have. He is Mr. X: the man who comes to claim my life. Can I save myself before he demands my heart?
WARNING: This book contains very disturbing situations, dubious consent, breath deprivation, strong language, drugs and alcohol, and graphic violence.
Taken by the Sheikh (Boxed Set) by Christina Phillips, Mel Teshco & Cathleen Ross, contemporary erotic romance (reviewed by Tina)
Book 1: Hostage to the Sheikh ~ Mel Teshco
Sheikh Shahzad Salah al Din doesn't have time for hearts and flowers, not when his parents' bodies are barely even cold in their graves and his country, Omana, is on the brink of revolt. He has to secure peace by honoring a long ago arrangement to make English rose, Lexi Galvin, his wife. The trouble is strong-willed Lexi isn't aware of her royal Arab lineage let alone her destiny. There is only one way Shahzad can guarantee she will be his queen … and he isn't above using force to get it.
Book 2: The Sheikh's Mistaken Bride ~ Christina Phillips
In order to secure a powerful alliance for his country, Khalid has no choice but to marry a neighboring princess. It's not what he wants, but duty must come before pleasure. Yet when he meets the beautiful Sanura he changes his mind… only to discover the virgin in his bed is not his destined bride.
Book 3: Sold to the Sheikh ~ Cathleen Ross
He'd paid a fortune for his bride and he was determined to collect, whether she liked it or not. Rafi Salah al Din doesn't trust easily. In charge of security for his country Omana, he devotes his life to duty. With his parents murdered it is his duty to stabilize his country by finding his parents' assassin, marry and produce a son to ensure the Salah al Din line lives on. So why does the wife he bought disagree?
Heart Grow Fonder by Cristy Rey, adult contemporary romance (reviewed by Tina)
Wrong place. Wrong time. Right people.
Jessie Bravo knows what's wrong with her life; she just doesn't know what to do about it. Eleven years ago, she saved Tyler Cantrell from getting his ass kicked by gay-bashing high school jocks. Since, they've been the closest of friends. Years later, Jessie circled the drain of chronic depression, spiralling out of control, and it was Tyler's turn to save her. Who knew her best friend would become a Hollywood A-lister? Though Jessie credits Tyler for keeping her together, living in the shadow of her best friend's celebrity isn't all it's cut out to be. It's up to Jessie to figure out what she has to do to be happy: get better or get lost.
Stardom is on the horizon for British television actor Boyd Kerrington. He's starring opposite Tyler Cantrell in an American feature film sure to blow his career out the water. For all the years he's focused on his career, however, he's settled in his personal life. That is, until he meets Tyler's best friend, Jessie. Jessie is refreshingly cool, passionate, and compelling…but she's also complicated. Worse yet, she's not interested in remaining in the celebrity stratosphere, even for her lifelong friend.
Triple D Dude Ranch by Beverly Ovalle, erotic western contemporary romance (reviewed by Tina)
Blurb: Blaire is a freelance photographer on assignment. She is heading home to Texas, armed with her camera to do a photo feature for the Tribune. Taking photos of the dude ranch, she gets an eyeful of an uninhibited cowboy through her lens. The summer heat of Texas has nothing on the heat he generates in her.
Dan was expecting a photographer but not the sexy urban cowgirl that arrived. He knew it was hot out, he just hadn't expected the hot and sexy woman to make him burn the minute he caught sight of her. One look and he had to quench this fire inside.
One touch between Dan and Blaire sparks a wildfire that burns hotter than the Texas summer and is just as hard to put out.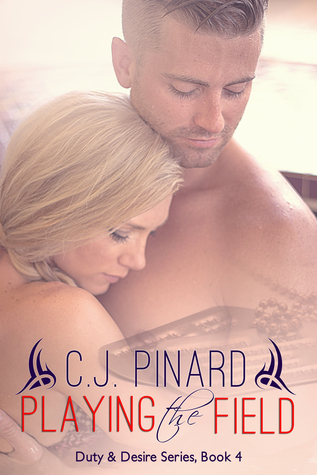 Playing the Field (Duty & Desire #4) by C.J. Pinard, contemporary military romance, chick-lit (reviewed by Caroline)
Blurb: An overachiever in uniform…
Jace Lawless is an overachiever, a go-getter, and determined to accomplish everything he sets his mind to. After serving his country in the U.S. Marine Corps, and receiving his college degree, he's picked up by a popular minor league baseball team, all while continuing his service in the USMC reserves.
When Jace meets a beautiful, breathtaking single mother named Miranda Cates, it takes him by surprise. Her shady past and beautiful little girl are the conundrum that both confuses and fascinates Jace. He can't tear his thoughts away from Miranda, and eventually he believes he can win her over with his dimpled smirk and witty charms.
Once Miranda becomes his, the part of him she hated the most – the part he had kept secret from her for so long – rears its ugly head. Will Miranda lean on her friend Cara for support while staying by his side once he tells her that duty is calling… or will she decide she can't handle it and take her daughter and leave?
Playing the Field is the fourth and final installment of the Duty & Desire series. Contains adult situations and minor scenes of war. 
Dead of Night (A Tom Mariner Mystery #7) by Chris Collett, police procedural, crime drama, thriller (reviewed by Caroline)
Blurb: When a young woman disappears on her way home from work, Detective Inspector Tom Mariner tackles his most challenging investigation yet!
18-year-old Grace Clifton vanishes on her way home from work in the centre of Birmingham late at night, the case is remarkable in that not a single witness comes forward. The more he has to deal with Grace s wealthy and overbearing father, Council Leader Bob Clifton, the more Tom Mariner is inclined to believe that Grace left of her own accord.
Then the package arrives. It contains Grace s clothes, neatly pressed and laundered. A second woman disappears. And a disturbing pattern begins to emerge.
Still adapting to a new investigation team and struggling to pull its members together, Detective Inspector Mariner is about to tackle one of his strangest, most challenging cases to date.
Once Upon a Rake by Samantha Holt, historical romance (reviewed by Tina)
In Victorian England, Little Ellie Browning swiftly discovered happily ever afters did not exist and rakes were simply rakes. When the man she had adored for years kissed her and left her heartbroken and she was forced to marry an elderly earl to save her reputation, she resolved to put any dreams of fairy tales aside.
Seven years later, the now widowed Eleanor, Countess of Hawthorne, has returned to England after years of travelling and is now part-owner of a cotton mill left to her by her late husband.
But the owner of the mill, and the very same handsome rake who hurt her years earlier, has no desire to let a woman interfere with his business, let alone little Ellie Browning—no matter how fascinating he finds her since her transformation from coltish scarecrow to almost graceful countess.
Lucian is still recovering from the after-effects of one of his mills succumbing to fire, and now he's fighting to save the other in a tough economic climate. He doesn't need this new distraction, especially when, after a series of accidents, it becomes clear someone wishes the mill to close and he has to find the culprit—fast.
With things heating up between Ellie and Lucian, it's apparent that not only is the mill in peril—they are both at risk of getting burned…