Hi readers, we hope that you're Christmas preparations are going well and that you are not too stressed with all of the arrangements, shopping and wrapping to do! Here is the last Review Round Up of 2014! As usual, there are quite a few genres with the fourteen books that we have reviewed, and we do hope that they pique your interest. (For the full review please click on the titles.)
You may be pleased to hear that we will both be doing our Top Reads of 2014 over the holidays. We have had the pleasure of reading many great reads and look forward to sharing them!
Enjoy!
Caroline & Tina ❤
Invasion Earth (Delroi Connection #1) by Loribelle Hunt, erotic/sci-fi romance (reviewed by Tina)
In the distant future, Earth has been ravaged by war and famine, and after generations of bloodshed settles into peace only to be invaded by the alien Delroi. General Alrik Torfa needs a mate and his seers promise mates for many of his people on the distant planet Earth. He doesn't expect her to come easily, but is more than a little surprised to find her leading an enemy army. Outmanned and outgunned, there is no way the Earth forces can win.Sergeant Major Laney Bradford has always played her part and served her people well, but the demands of the Delroi's surrender are a bit extreme. Marriage? To one of them? Not likely. But she's fought for peace her entire life and when surrender talks are threatened by a conspiracy led by her people, Laney must choose. Will she submit to the alien invader or lead the fight against him?
Entropy by Robert Raker, dark crime drama, thriller suspense (reviewed by Caroline)
When a series of child abductions and murders disrupt the life of an economically blighted community, the consequences have far-reaching implications. The brutal crimes take a different toll on a disparate group of individuals; the scuba diver who retrieves the children's bodies; the disfigured cellist who thinks he knows who's responsible; the undercover federal agent; and the mother of one of the victim's.
United in a situation not of their choosing, they are forced to take a deep, introspective look into their intersected, yet isolated lives.
To Avenge Her Highland Warrior (Highland Fae Chronicles #3) by Samantha Holt, historical romance, fantasy (reviewed by Tina)
Lorna lost everything to war. Her home, her wealth… her lover. And now she wants revenge. When her hasty plan throws her at the mercy of her enemy's men, she holds little hope of returning to her kin and fears death is around the corner. But could her salvation lie in the arms of her dark captor? Logan has little time to be dealing with a stubborn noble woman. His orders are to prepare for war. His laird—the man he owes his life to—intends to join forces with the Norse and bring a battle to Scotland that will see the fate of the country forever changed. Scarred, and with no memory of his past, Logan is determined to forge a new future for himself as well as prove his loyalty to the laird. But the beautiful lass has him questioning his previous life and his goals. When she starts claiming he once loved her, he knows he's being manipulated and she's taking advantage of his memory loss. So why is it so hard to resist the idea of having once been her lover? With the threat of impending war—a battle that promises to bring slaughter to her family—can Lorna persuade Logan to believe her, and is the bitter man he's become even worth saving? Whatever the outcome of the battle, a certain interfering faery is resolved to see fate back on its correct path. And that means forcing Lorna and Logan together—no matter their differences.
Cold Call by Colin Llewelyn Chapman, dark crime drama, thriller (reviewed by Caroline)
Wealthy entrepreneur Robin Bradford had it all – the house, the cars, the fine dining – and he lost it all. All except Lizzie, his perfect, loving girlfriend. Down on his luck and with no immediate prospects in business, Robin's energies found another outlet, Just a little something spicy to bide his time until his financial world recovered, leading him down a very seedy path, onto a very rocky road. Time however was all he had, and all he was going to get.
Due to violence, drug references and sexual content, readers are recommended to be of 18yrs+.
Bend, Don't Break (Irrevocable #2) by Skye Callahan, dark erotic romance (reviewed by Tina)
I thought I was done.
my End
I couldn't take my eyes off her as the bullet tore through me, leaving me with nothing but the hope that I had done enough to save her. The darkness tried to engulf me—to brand me as its own and drag me to my fate.
my Darkness
Waking to see her tear-stained face above me was enough to make my heart stutter. I was alive and free from that place—but not from the toll it had taken on my mind and body.
my Strength
My story should have ended, but one woman kept standing in the way of that. The only way I could have her was to find a way to put the darkness to rest.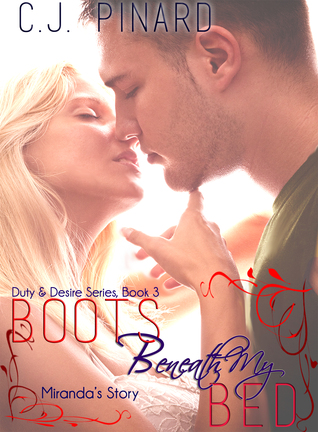 Boots Beneath My Bed (Miranda's Story) (Duty & Desire #4) by C.J. Pinard, contemporary military romance, romantic comedy, chick-lit (reviewed by Caroline)
Miranda Cates finally graduates from college and is excited to begin her dream career in law enforcement. After the final betrayal and heartbreak of her college boyfriend, Chris, she moves back home with a firm plan in place for her life.
However, the life she has carefully mapped out for herself takes a serious left turn. Miranda finds she not only has to be strong for herself, but for the daughter who hadn't been part of her plan.
Determined to still believe in true love, life throws Miranda one more wicked curveball. She meets Jace Lawless, a hot minor league baseball player, whose warm aqua eyes and big dimple have her unraveling her carefully laid plans. A man who may be just be too good to be true.
Boots Beneath My Bed (Miranda's Story) is book 3 in the Duty & Desire series, and while it is recommended to read the books in order, it's not necessary.
An Autumn Crush by Milly Johnson, contemporary romantic comedy (reviewed by Caroline)
In the heart of the windy season, four friends are about to get swept off their feet…
Newly single after a bruising divorce, Juliet Miller moves into a place of her own and advertises for a flatmate, little believing that, in her mid-thirties, she'll find anyone suitable. Then, just as she's about to give up hope, along comes self-employed copywriter Floz, and the two women hit it off straight away.
When Juliet's gentle giant of a twin brother, Guy, meets Floz, he falls head over heels. But, as hard as he tries to charm her, his foot seems to be permanently in his mouth. Meanwhile, Guy's best friend Steve has always had a secret crush on Juliet – one which could not be more unrequited if it tried…
As Floz and Juliet's friendship deepens, and Floz becomes a part of the Miller family, can Guy turn her affection for them into something more – into love for him? And what will happen to Steve's heart when Juliet eventually catches the eye of Piers – the man of her dreams?
Apartment 2B by K. Webster, Adult contemporary paranormal romance (reviewed by Tina)
Sidney has a rough life. Her mom is incredibly abusive both mentally and physically. One day, she's awarded the escape she's always wanted and thrust into a world she barely understands. Each day is a struggle to feel human and not terrified of everything around her.
Sidney has rules. Routines. Structure. It's the only way she can cope
When a handsome, yet mysterious stranger inserts himself into her life, Sidney begins to come apart at the seams. She's having trouble sticking to her habits and it's threatening to shred any hope of a normal life to pieces. Will this stranger help her in ways no other person can, or will things get worse for her?

He comes with his own set of problems and secrets he's unwilling to share. Will they work together through the mess of their pasts or will they get caught up enabling each other? Will their toxic relationship ultimately be destined for demise?
Mist Unveiled (Elemental Desire #1) by Nancy Corrigan, erotic paranormal romance (reviewed by Tina)
Cat has one love in her life—science. Facts rule her, not passion. At least it doesn't until an unknown deadly virus claims her sister's life. Cat's quest for answers takes her to Greenland and drops her into the arms of the one man who sways her devotion from logic to passion. Rune stirs her lusts, ignites her desires and fuels her carnal cravings, but he isn't simply a lover, nor is he human. He's a weapon, one that has the potential to save or destroy her.
Rune, a child of the mist, awakens into a world hovering on the verge of destruction. Rising temperatures have released his enemies from their frozen prison without his knowledge. He searches for them but finds Cat, a human with the power to save him and the world. He hungers for her—blood, body and soul. Every moment of shared passion convinces him of the truth—she's his greatest treasure, one he'll die to keep.
Secret Confessions: Sydney Housewives (Virginia #1, Lana #2 & Nella #3) by Rhian Cahill, Cate Ellink & Cathleen Ross, erotica (reviewed by Tina)
Cool, collected, confident – those who know Virginia in her personal and professional life would never expect to find her in Boyd's, a bar across town from her circle of friends and socialite world. But Boyd's offers her something she can't get among her rarefied acquaintances: sex. Rough, hard, mind-blowing, anonymous sex. In her casual clothes, she's no one important. Incognito, unnoticed by everyone except one: the bartender who knows her drink order – and would like to know a whole lot more.
Lana by Cate Ellink: Lana lives her life by her own rules – and she has very few. What she wants, she goes for, and she very rarely fails. So when a young, handsome waiter at her favourite restaurant catches her eye, she has no hesitation in asking him to escort her home. But one night of passion opens up exciting new possibilities, and a chance for Lana to enact one of her deepest, most illicit fantasies.
Nella by Cathleen Ross: Nella is one hundred percent in control of her life – all aspects of her life. She excels at knowing what everyone needs, and in meeting those needs. So when it comes to her husband, Michael, and his deepest desires and most fundamental requirements, she is committed, creative, and unswerving in her responsibilities. A strong man needs a strong woman, and Nella's love is as strong as steel.
Cursed (Cursed trilogy #1) & Obsession (Cursed trilogy #2) by Georgina Hannan, young adult paranormal horror (reviewed by Caroline)
Cursed: Reality and Myths collide.
A young adult story about a group of four friends who embark on a holiday together to the gorgeous countryside of Dartmoor, Devon. Each of them hoping for an adventure, something they will always remember. However it isn't long before they get what they want.
The group are plagued by noises after hearing the myths and legends of the area. Is it just their overactive imaginations or is there a visitor in the spare room who is trying to get their attention?
Join the group on a spectacular journey as they discover what Dartmoor has to offer.
Obsession: There's a fine line between Obsession and Madness.
After a strange and exciting holiday, Daisy is looking forward to the new start University life will bring.
A life changing assignment makes her question the fine line between Obsession and Madness.
Can she tell the difference?
Can you?
Candy Cain (festive short story) by C.L. Scholey, hot, contemporary romance, festive (reviewed by Caroline)
Candy is on top of the world. She's a high priced corporate lawyer with expensive cars, time on her hands, and money to burn. Although, she has no one to burn it on, except for a yearly ritual of buying toys and treats for the needy at Christmas time.
Cain is an egotistical enigma. A very deprived and hurting enigma, who feels wishes are for fools. A car accident leaves them stranded together, and the two have no choice but to warm each other's cold bodies, lest they freeze to death.
As the temperature dips outside, the heat begins to sizzle inside. Candy and Cain, though worlds apart in society, begin to feel perhaps they have more in common than either could ever wish for.
Will they both discover the miracle of Christmas wishes isn't just for the very young?
A Way From Heart to Heart by Helena Fairfax, contemporary romance (reviewed by Caroline)
After the death of her husband in Afghanistan, Kate Hemingway's world collapses around her. Kate's free time is spent with a charity for teenage girls, helping them mend their broken lives – which is ironic, since her own life is fractured beyond repair.
Reserved, ex-public school journalist Paul Farrell is everything Kate and her teenage charges aren't. But when Paul agrees to help Kate with her charity, he makes a stunning revelation that changes everything.
But can Kate take a risk with her son's happiness as well as her own?
The Silent Governess by Julie Klassen, historical romance, religious (reviewed by Tina)
Believing herself guilty of a crime, Olivia Keene flees her home, eventually stumbling upon a grand estate where an elaborate celebration is in progress. But all is not as joyous as it seems. Lord Bradley has just learned a terrible secret, which, if exposed, will change his life forever. When he glimpses a figure on the grounds, he fears a spy or thief has overheard his devastating news. He is stunned to discover the intruder is a scrap of a woman with her throat badly injured. Fearing she will spread his secret, he gives the girl a post and confines her to his estate. As Olivia and Lord Bradley's secrets catch up with them, will their hidden pasts ruin their hope of finding love?