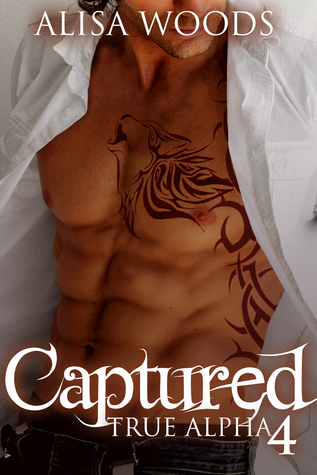 Strong, dark, scary and intense!
Blurb: Shifters live in the shadows of Seattle, just under the skin of the alpha male, dot-com entrepreneurs who are building a new Silicon Valley in the Emerald City.
Lucas and Mia's story continues as she tries to free Jupiter from the Red pack and he tries to save them both.
Captured (True Alpha 4) is 70 pages or 17,000 words. It's the fourth of six episodes in the True Alpha serial.
Adult content. Ages 18+.
Review
This series keeps on growing stronger and stronger. You can see from the recommended reading age, 18ys+, that this episode, Captured, is going to be darker than the previous, scarier than the previous and so intense! Mia really is in trouble now as she is being held by the Red pack and it doesn't seem like there is much she or Lucas can do to save both herself and her friend, Jupiter.
With every passing moment the reader fears for her safety just as much as Lucas does. Not only has she been captured and held against her will, but an alpha from the Red pack, Mace, is quite keen to do more to her than simply hold her hostage. He wants Mia for himself, wants her submission – but just how far will he take his threat?
Lucas, meanwhile, is no fool. He is aware of the tendencies that members of the Red pack will have for Mia. Especially Mace's! Lucas' rage really comes to the fore, especially when he is willing to fight with his own pack members for Mia. He knows he can't rush in and do anything stupid, putting Mia's safety at greater risk (if that's possible). But he wants his father's and pack's support and be able to go in strong to rescue her.
Another battle they both have in their minds is that they both blame themselves for what has happened. Lucas should never have gave in to his feelings and brought them to the fore, just to shut her out immediately after. And if Mia is truly what his inner self/wolf wants then maybe he should have given himself whole heartedly without messing her around. On the other hand, was Mia being too childish when she drove away in his car and left him naked in the woods?!
Alisa Woods has created brilliant suspense throughout and Captured really tops it for me. I simply can't wait to read the final two episodes, Sacrificed and Claimed. Paranormal and shifter fans will love this series. The heat is turned up a little higher as each one is read. Now for Sacrificed……
Captured (True Alpha #4) was provided by the author, Alisa Woods, in return for an honest and fair review.
Check out my previous reviews for Desired (True Alpha #1), Guarded (True Alpha #2) and Hunted (True Alpha #3)!
Captured (True Alpha #4) is available on Amazon UK and Amazon US. (Currently books 1-5 can all be bought from Amazon for a small price. Book 6, Claimed, will be released on Tuesday 21st October 2014. However, if you would like all books together in one set – this will be released on Tuesday 28th October, again for a small price. Book 6 and the boxset are available to pre-order in the time being.)
Reviewed by Caroline Barker