Welcome to this month's review round-up. Tina and myself have been extremely excited with all that has been posted recently, such as the HALLOWEEN ZOMBIE TAKE OVER TOUR. This is an ongoing tour throughout this month that has been hosting many books and GIVEAWAYS. Be sure to check all of those out!
Plus, we have had:-
Interview with espionage thriller, The Damascus Cover, author Howard Kaplan (whose book is being made into a movie, and starring no other than Homeland's Abu Nazir, actor Navid Negahban)
Interview with author Saylor Storm for her mystery/romance book, Sue's Seduction
Interview with Caroline (A Reader's Review Blog) re blogging and reviewing
Recommended Halloween reads for Younger Readers/Teens/Young Adults (11yrs+)
Recommended Halloween reads for New Adult/Mature readers (17yrs+)
Whilst we have been working on many Halloween related posts and reads, we thought we would remind you of some of our other recent reviews.
We hope that you enjoy and that there is something for everyone! Have a fab week and a super HALLOWEEN!
Caroline & Tina 🙂
(Please click on titles for review)
Trail of Dead (The Incarnate series #2) by Cristy Rey, urban fantasy, paranormal romance (reviewed by Tina Williams)
Blurb: The Pastophori of Iset has set a trap for the Incarnate…only she doesn't know it.
Burned out from being on the road again, a directionless Sunday finds herself inexplicably drawn to Salt Lake City. There she finds herself in a curious state. For the first time in her life, Sunday feels normal. She can walk around free of anxiety that she will be set-off by her inhuman sensitivity. She can be intimate without overheating. Are the days of the Incarnate finally behind her?
Cyrus has not handled losing Sunday well. For eight months, the werewolf has been a shadow of himself. His pack is concerned and his closest friend, Marcus, believes that Cyrus is in danger of being lost to his humanity. When their Alpha confesses that the Pastophori of Iset has set a trap for Sunday, Cyrus goes into full-gear trying to get her out of it…but he has to find her first.
The Red Wolf's Prize (Medieval Warriors #1) by Regan Walker, Historical romance (reviewed by Tina Williams)
Blurb: Sir Renaud de Pierrepont, the Norman knight known as the Red Wolf for the beast he slayed with his bare hands, hoped to gain lands with his sword. A year after the Conquest, King William rewards his favored knight with Talisand, the lands of an English thegn slain at Hastings, and orders him to wed the heiress that goes with them, Lady Serena.
SHE WOULD LOVE HIM AGAINST HER WILL
Serena wants nothing to do with the fierce warrior to whom she has been unwillingly given, the knight who may have killed her father. When she learns the Red Wolf is coming to claim her, she dyes her flaxen hair brown and flees, disguised as a servant, determined to one day regain her lands. But her escape goes awry and she is brought back to live among her people, though not unnoticed by the new Norman lord.
Deprived of his promised bride, the Red Wolf turns his attention to the comely servant girl hoping to woo her to his bed. But the wench resists, claiming she hates all Normans.
As the passion between them rises, Serena wonders, can she deny the Norman her body? Or her heart?
The Prince's Ex by Nadine Seiters, Contemporary romance, chick-lit (reviewed by Tina Williams)
Blurb: Amelia Radley thought she had it all when she met a man in a bar and he ended up being royalty. Their love affair was anything but boring, and yet he dumped her almost exactly a year after asking her out to their first dinner date. While the wound was deep and fresh thirty days after their separation, she picked up the morning paper only to see that the man she thought she loved had already become engaged to another woman.
Her best friend, Tina, suggests the only thing she knows would make her feel better. Amelia should start dating any man she meets that she likes so that she can get over her ex. The idea is ludicrous, and yet Amelia agrees to a date with a man she has never met before. All the while, she considers herself nothing more than the prince's ex, a woman who could not hold the affections of every woman's dream.
When she finds love in an unexpected place, it's challenged by the past and the future looks rocky. Amelia's insecurities might get in the way of her finding true love, in more ways than one.
Devil's Return (Allan's Miscellany #4) by Sandra Schwab, Historical romance (reviewed by Tina Williams)
Blurb: Seven years ago Fran and Alex were very much in love. Yet because Alex was only a younger son with no prospects to speak of, Fran's family pressured her into breaking the engagement and marrying a rich, titled man instead. Filled with bitterness, Alex left England for the New World.
Now he is back, more dangerous and more cynical than ever before. He has found fame and fortune as an adventurer, traveling the world from America to the Near East and writing about his travels for Allan's Miscellany. He has come to London to drum up interest for his friend's archeological excavations. Soon, he finds himself the darling of London society, admired by men, wooed by women.
Fate has not been so kind to Fran. After a disastrous marriage, which has left her with deep emotional and physical scars, she is widowed and now lives in genteel poverty.
By chance, Alex and Fran's paths cross again. They have both changed so much, and past betrayals and past hurts still divide them. So surely there can be no second chance for their love…
Hunted (True Alpha #3) and Captured (True Alpha #4) (short stories) by Alisa Woods, paranormal romance (reviewed by Caroline Barker)
Hunted blurb: Shifters live in the shadows of Seattle, just under the skin of the alpha male, dot-com entrepreneurs who are building a new Silicon Valley in the Emerald City.
Now that Mia understands what happened to Lucas's dead mate, she questions whether he's truly the mate for her. Meanwhile, Lucas wrestles between keeping her close and letting her go… but he can't resist when she asks him to teach her more about being a wolf.
Hunted (True Alpha 3) is 75 pages or 18,000 words. It's the third of six episodes in the True Alpha serial.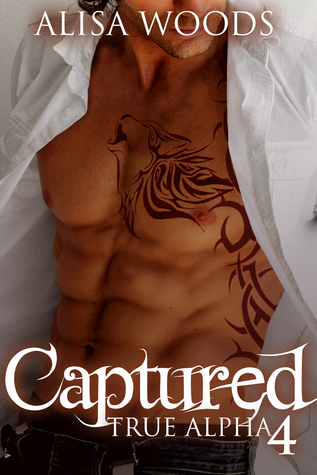 Captured blurb: Shifters live in the shadows of Seattle, just under the skin of the alpha male, dot-com entrepreneurs who are building a new Silicon Valley in the Emerald City.
Lucas and Mia's story continues as she tries to free Jupiter from the Red pack and he tries to save them both.
Captured (True Alpha 4) is 70 pages or 17,000 words. It's the fourth of six episodes in the True Alpha serial.
Adult content. Ages 18+.
Lady Beauchamp's Proposal by Amy Rose Bennett, Erotic historical romance (reviewed by Tina Williams)
Blurb: A runaway countess finds love when she least expects it…but she can't hide from her past forever.
Elizabeth, Lady Beauchamp, fears for her life. When she discovers her dissolute and long-estranged husband has syphilis—and he wants to beget an heir no matter the cost—she flees to a remote part of Scotland to begin a new life as the widowed governess, Mrs. Beth Eliott at Eilean Tor Castle.
When Mrs. Eliott unexpectedly arrives on his doorstep, the reclusive and recently widowed Marquess of Rothsburgh is both irritated and intrigued. No longer in need of a governess—his young daughter now resides with his sister's family in Edinburgh—he proposes the beautiful widow fill a position of a different kind…
Torn between staying true to her marriage vows and her wanton attraction to the devilishly handsome marquess, Elizabeth struggles against the temptation to become his mistress. But living a lie is not easy when you have fallen in love. And secrets always have a way of coming out…
By the Sea (novelette) by Katherine McIntyre, Fantasy paranormal romance (reviewed by Caroline Barker)
Blurb: Most kids had imaginary friends, but most weren't like Megan's friend Niall. There were rules: only at night and only by the sea. She could've sworn he was real, but when someone vanishes without a trace, what else can you believe?
All that was seven years ago, buried in the past until Niall shows up in town with his tight swimmer's body and easy smile. For Megan, just the sight of him is enough to tear open a scar that never fully healed. However, their reunion only elicits more questions. Niall's keeping secrets, unbelievable ones, and as Megan delves into the supernatural depths of who he really is, she's sure he'll vanish again.
Megan's not stupid—she knows how bad it'll hurt if she gets involved. The first time Niall disappeared, she never thought she'd recover. But the moment they lock eyes, it's too late—because Megan will go to any length to see that boy smile.
Sick Day by Morgan Parker, Contemporary romance (reviewed by Tina Williams)
Blurb: Hope and Cameron made a five-year promise before college. Years pass and they never see each other again. But then one month before his planned wedding to Riley, Cameron looks outside and sees Hope in the pouring rain, watching him.
Now, three years later, Cam has one day – a sick day on this last Friday of summer – to convince the one woman whose very existence breaths life into his lungs, that sometimes love like theirs actually does exist, and it's that kind of love that lives forever, no matter how hard you fight to forget about it and move on.
From the author of non friction and Hope, Sick Day follows one man's day-long attempt to persuade the love of his life that sometimes it's okay to break promises if it means keeping the ones that count.
Moonshine (The Moon Trilogy #3) by Tim O'Rourke, paranormal horror (reviewed by Caroline Barker)
Blurb: Weak and still not yet a true vampire, Winnie McCall heads north toward Scotland in the company of the last of the werewolves, Thaddeus Blake. Hunted relentlessly by two police officers, Thaddeus and Winnie must find the Moonshine, a prism that when matched with the Moonbeam, will destroy the vampires.
When two ancient enemies go head to head, the body count soon starts to rise, but who is it leaving a trail of dead bodies along the path that Thaddeus and Winnie are taking? And what is the terrible secret from Winnie's past that is preventing her friend Ruby Little from staying dead?
With terrifying consequences, Winnie discovers how far she and the man she loves, Thaddeus Blake, will go to survive and remain the last of their species.
A shock ending that will leave you stunned, 'Moonshine' is the final book in 'The Moon Trilogy' by bestselling author, Tim O'Rourke.
Review for Moonlight (The Moon Trilogy #1)
Review for Moonbeam (The Moon Trilogy #2)
Sacrificed (True Alpha #5) (short story) by Alisa Woods, paranormal romance (reviewed by Caroline Barker)
Blurb: Shifters live in the shadows of Seattle, just under the skin of the alpha male, dot-com entrepreneurs who are building a new Silicon Valley in the Emerald City.
Sacrificed (True Alpha 5) – New Adult Paranormal Romance
Even with Jak's help, Mia finds escaping Mace's grasp isn't easy… in fact, it may require a sacrifice neither she nor Lucas want her to make.
Sacrificed (True Alpha 5) is 50 pages or 12,000 words. It's the fifth of six episodes in the True Alpha serial.
Your Cottage Awaits by Derek A Barrass, paranormal suspense (reviewed by Tina Williams)
Blurb: A couple in their late fifties planning to retire to the countryside discover what they believe to be their dream cottage. They return to finalise the details and to arrange to purchase the property, only to find all was not as they'd imagined. The property has completely changed, from being a rustic, rose covered pretty little cottage, to a tumbledown wreck of a building. Thinking it was just their imagination playing tricks on them they go ahead, despite their reservations when a number of strange and frightening experiences occur. A local witch is behind what is going on and she has plans for them within her coven.